Who doesn't love a blue bathroom?!?
Take an inside look at how we transformed a 1990s-era secondary bath from dark and dated to fresh and fabulous! (and oh those blue cabinets!)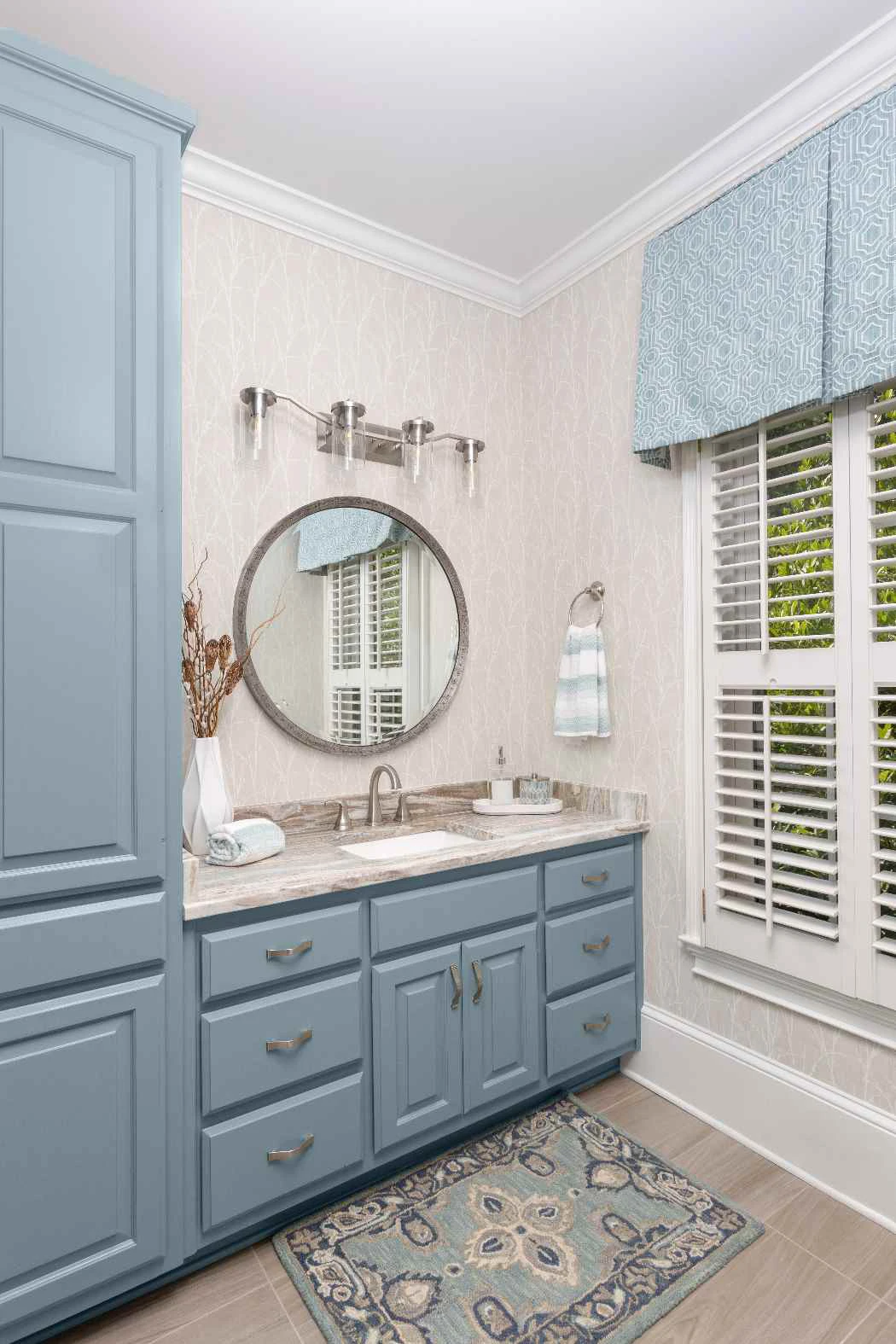 From the beautiful blue cabinets to the subtle new wallcovering and every detail in between, you won't believe this bath's dramatic transformation.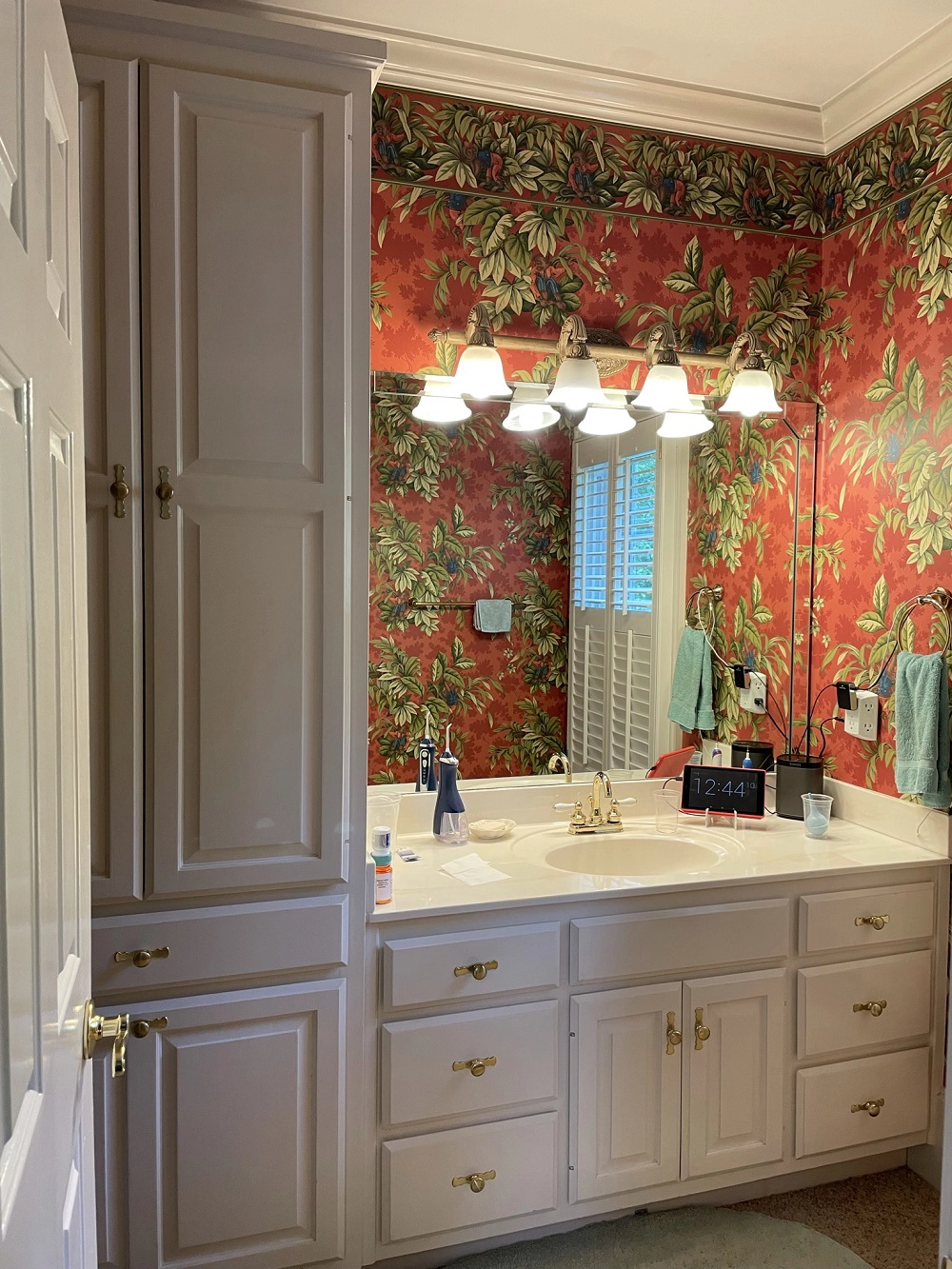 We took our clients' 1990s secondary bath from dark and dated to bright and fresh.
There's something about a blue bathroom that just feels so fresh and clean!
Before our clients came to us, their secondary bath, adjacent to the husband's home office, was badly in need of an update.
Our initial vision included removing the bathtub and replacing it with a shower, swapping out all of the bright brass elements for a more modern brushed nickel, and because our clients love color, creating a centerpiece in the space with cabinetry in a lovely shade of blue.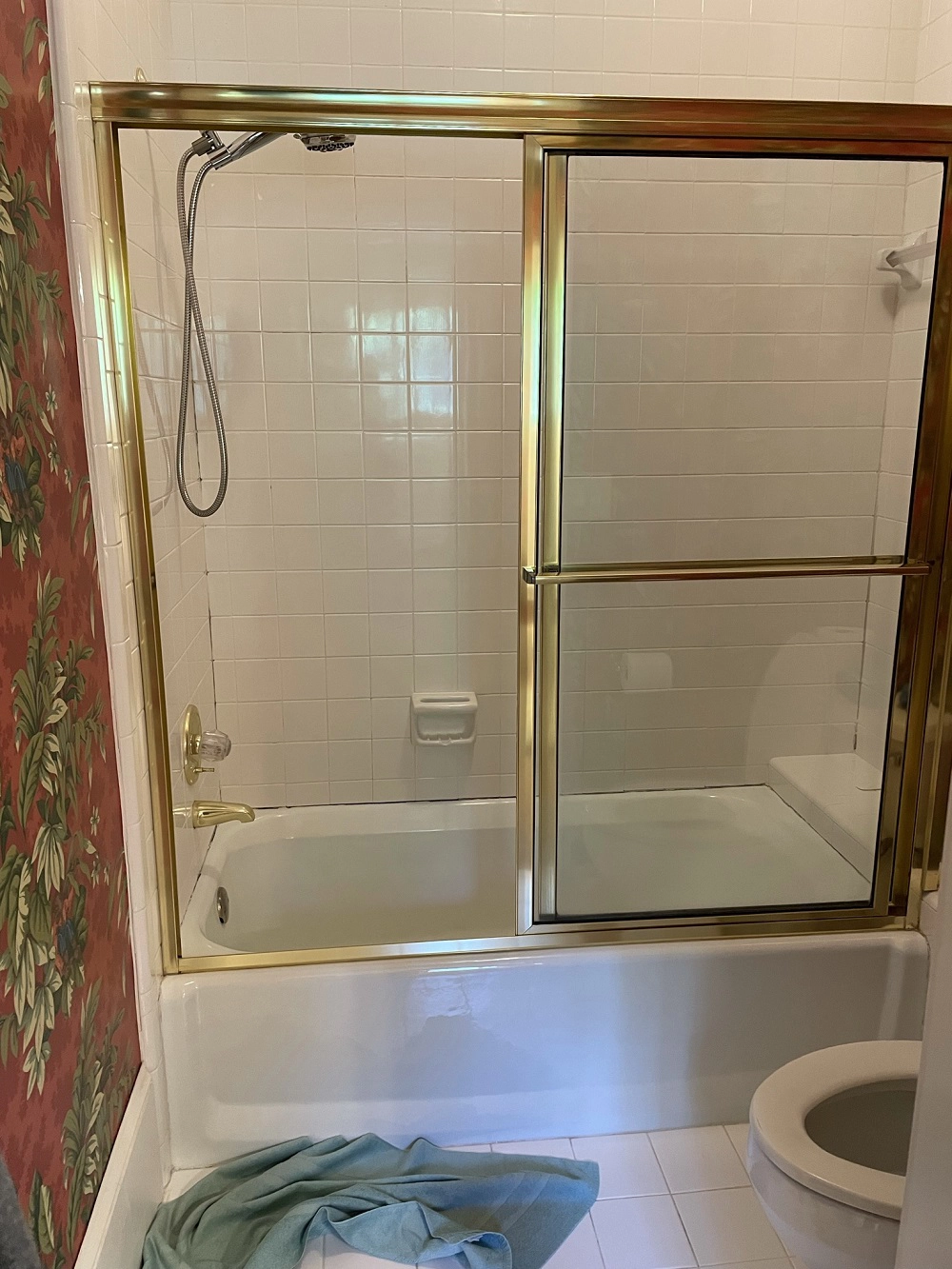 The original dark wallpaper, bright brass, and small white floor tiles timestamped this small secondary bath in the 1990s.
The Cabinets
Because the solid wood cabinets were in good condition considering their age, we decided to keep and repaint them. To find the perfect paint color, we first selected the shower tile and the fabric for the custom window valance. We then used those items to cull down the paint options to this beautiful shade by Sherwin Williams (6221 Moody Blue).
We changed out the counter to this gorgeous Brown Fantasy marble, which adds a layer of richness and depth to the space. Of course, this meant removing the old countertop, and since we knew we were going to be saving the cabinets, we used a little extra care in doing so (though as long as the cabinets are solid wood and we're repainting them, it's easy to repair any dings that might occur in this process). We also took the opportunity of repainting the cabinets to remove all the old hardware, fill in the holes, and add new hardware.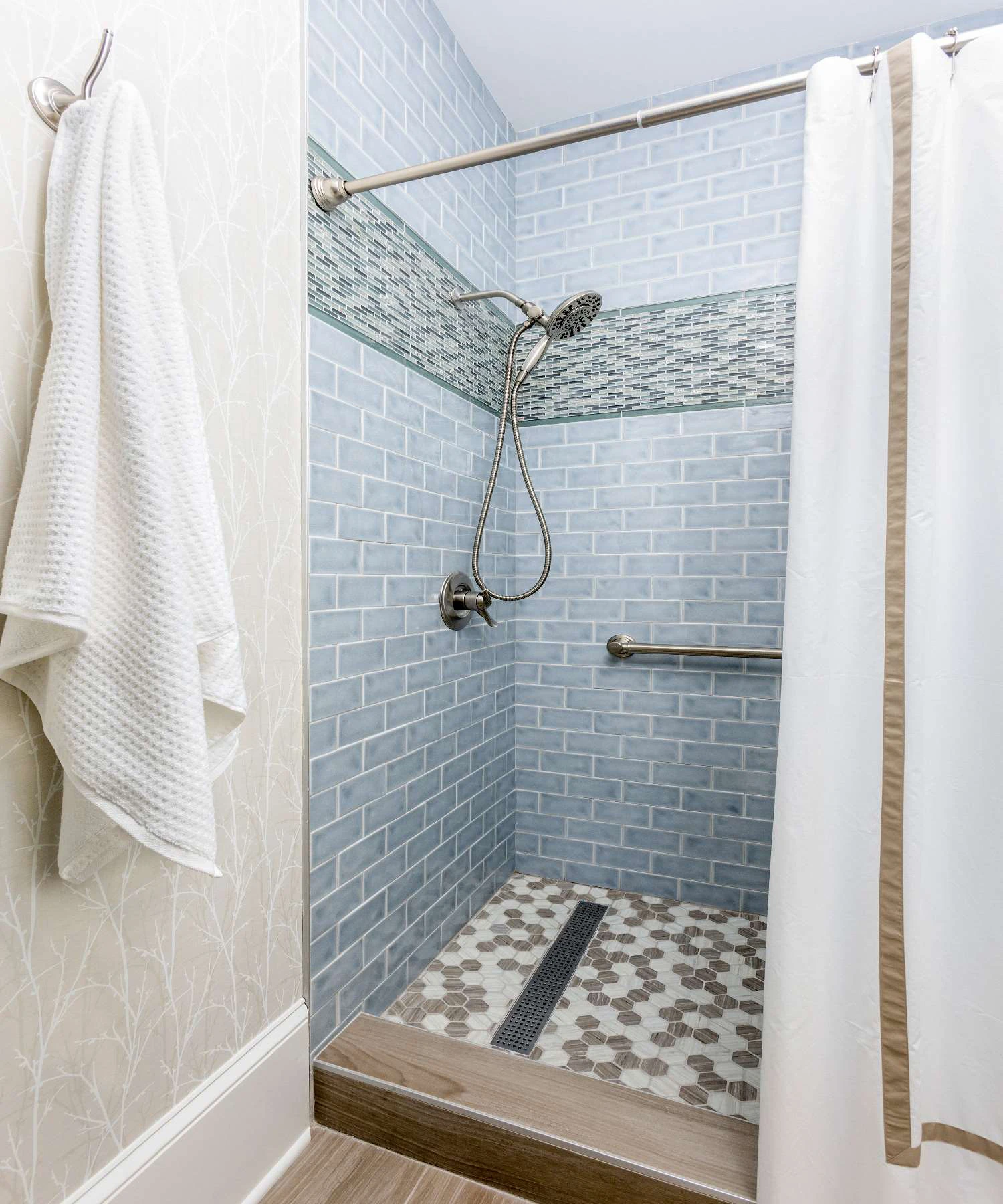 A trio of tiles makes for an interesting play on pattern in the new shower.
For the new shower, we came up with this intriguing design. We don't often mix so many kinds of tile, but it works well here. The pictures don't fully capture the effect, but in person, all the blues in the different tile textures come together to create so much interest. It's a fun play on pattern that keeps the eye moving between the glass tile and the subway tile and then finally landing on the neutral hexagon floor tiles.
We also added grab bars and a linear drain to keep the shower safer for our clients for years to come (see more on aging-in-place design here ). The Delta shower head has a cool dual-function design that allows water to continue to come from the main shower head when you pull the sprayer down so you stay warm while using the sprayer (we admit that as designers, we get particularly excited about details like these, but they actually do make life better for our clients!).
Walls + Floors
We did wallpaper in this bath again, but in a much more updated, much more neutral way. We knew we wanted a pattern that felt organic but that wasn't quite a floral. We also really wanted the cabinet color to pop in the space so the wallpaper needed to have some interest without competing with the cabinet's blue paint. This almost tonal "greige" and creamy white branch pattern hit the nail on the head.
For the floors, we replaced the original small, white tile with easy-to-clean porcelain tile flooring. The large plank style means fewer grout lines, which (thank goodness!) means less time and effort spent scrubbing stains.
Finishing Touches
Our clients asked for a shower curtain instead of an enclosure and we were happy to oblige. Believe it or not, Pottery Barn has some excellent options and this one had just the right shade of brown to tie it back to those hues in the wallpaper, flooring, and shower tiles.
We loved the classic plantation shutters, but the space needed a bit more softness and another layer of color so we added the custom box pleated valance.
Finally, we updated the whole space from polished brass to brushed nickel and coordinated the hardware, plumbing, mirror, and lighting to match.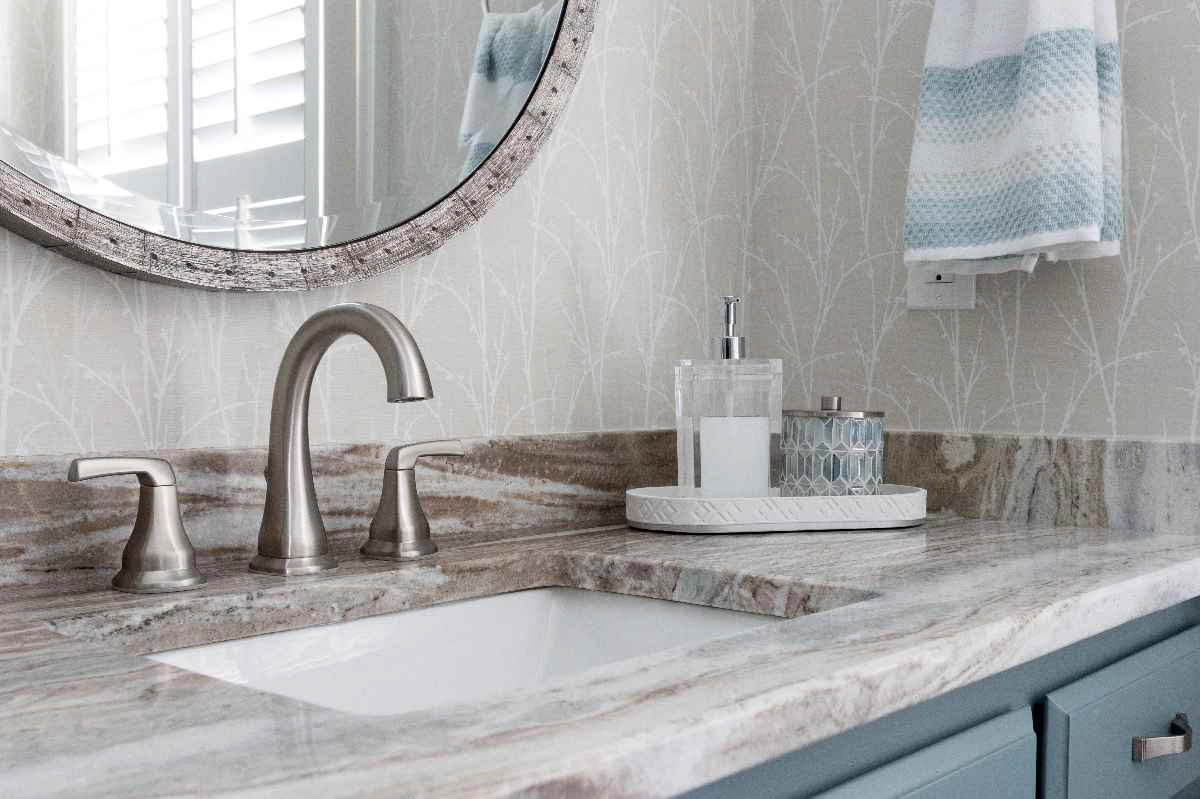 The tan, blue, and white palette with brushed nickel accents feels updated and refreshed, but also classic and timeless.
Altogether, these changes add up to a huge transformation in this space even though it wasn't a "major" remodeling project.
This project is also a case in point that if you want to make a big change in your home but aren't looking to invest a huge amount into a whole-home remodel right now, a secondary bath is a great project to start with. Because these spaces are smaller and simpler, the cost is kept down as compared to remodeling a kitchen or primary bathroom but transforming them can still make a huge impact on how fresh and updated your home feels.
If you have a secondary bath or other small space in your home you'd like our help transforming, reach out to us !