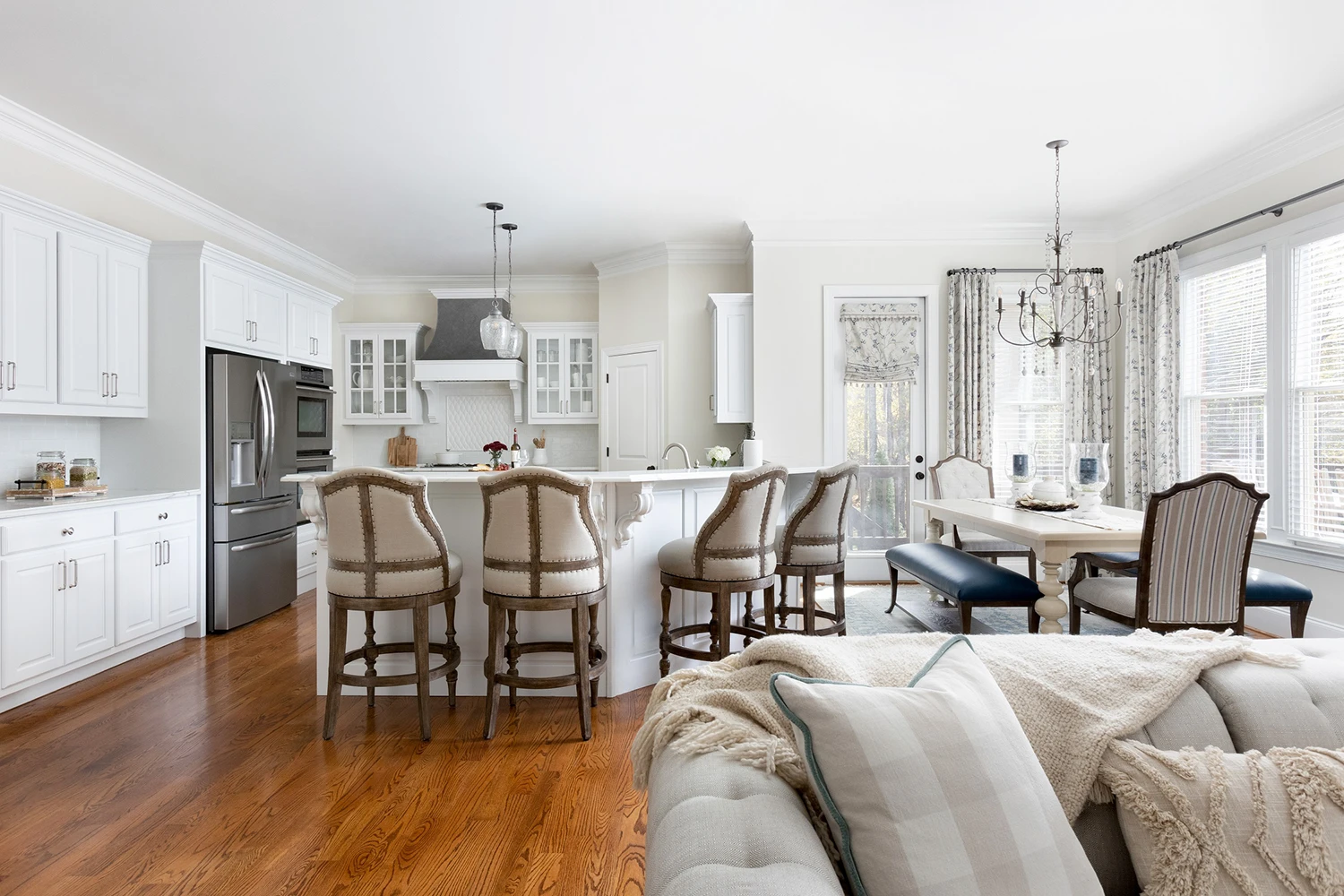 We completed this beautiful project last summer for our client, a creative writer who'd found herself struggling to live and work effectively in her nonfunctional, uninspiring surroundings.
When she approached us, the home was oppressive and dated, with brown walls and ceilings and absolutely no hint of her bright personality. She longed for light, airy spaces to spark her creativity and allow her to entertain friends and family proudly.
She wanted to achieve a "modern French country" style, leaning more sophisticated than fussy.
We worked our magic on the home with a full-scale renovation and design of the main level. We also gave the primary bathroom a full makeover, giving our client a spa-like retreat to enjoy on a daily basis.
The Kitchen & Breakfast Area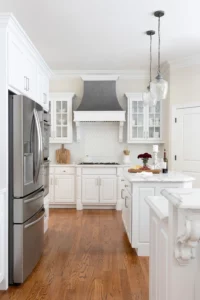 In the kitchen, circa 2005 or so, we kept most of the existing dark cherry wood cabinets but painted them a cheery white to brighten things up. We added custom glass cabinets on either side of the vent hood, lending the space a visually lighter, more open feel.
We custom-designed the vent hood, constructing it in wood and then faux-finishing it to look like pewter as an effective  way to achieve this nod to old-world French country style.
Originally, there were no pendant lights over the island and although there were can lights throughout the rooms, they were in all the wrong places. The result was a dark space with no usable task lighting. We completely redesigned the lighting, adding pendants over the island and reconfiguring the can lighting for better overall brightness and highly functional task lighting where it's needed most.
For a true modern French  look, we selected quartz counters that closely resemble marble but offer far better durability and stain resistance.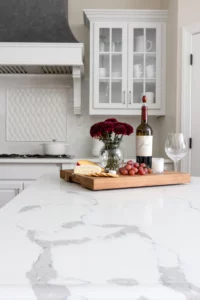 The modern appliances and sleek plumbing fixtures give the space an air of modern sophistication with optimal functionality, balancing out other more literal French country details.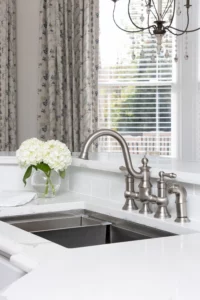 In terms of the kitchen's furnishings (as with all furniture selected for this project), we focused on bringing in the French country feel but with an updated twist. True French country style can be ornate and heavily detailed, so we took the overall concepts and silhouettes of the style but kept the details to a minimum for a more modern, updated look.
On the barstools and breakfast table chairs, we actually removed the manufacturer's fabric from the seats, then custom upholstered them in a high-grade vinyl so we could keep the light color with stain resistance and easy cleaning. The deconstructed chair backs with visible wood frames provide a layer of quintessential French country style.
Also in keeping with the updated French country feel we were going for, we mixed both dark and light wood tones throughout the space for a relaxed rustic effect.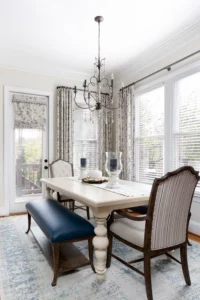 The Living Room
In the living room,  we chose a slightly more ornate coffee table but the lighter wood stain keeps it from feeling overly traditional.
We brought in sofas and chairs with classic silhouettes, including rolled arms and backs, as well as a bit of tufting.
The artwork's organic, whimsical feel complements the overall design direction but the fresh, simple color palette keeps any potential fussiness at bay.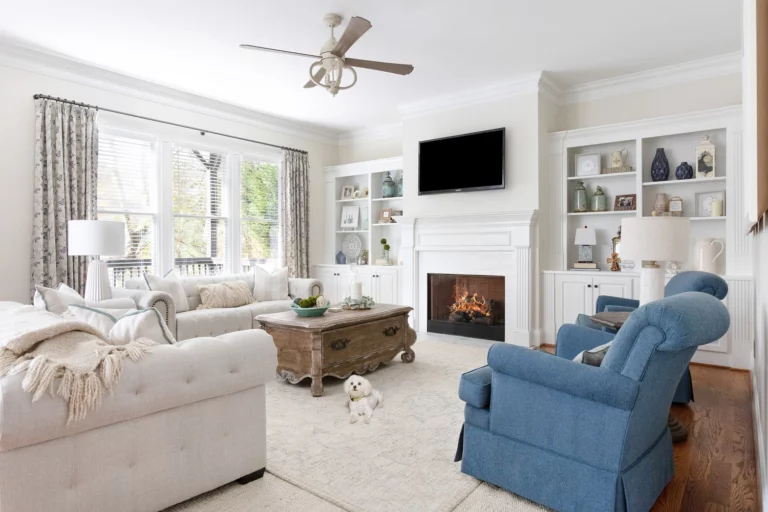 For truly elevated results, we designed custom window treatments and blinds for all the windows. The pretty embroidered linen we used here brings together all the various shades of blue throughout the space. We then trimmed this out with a tassel tape trim for a classic French feel.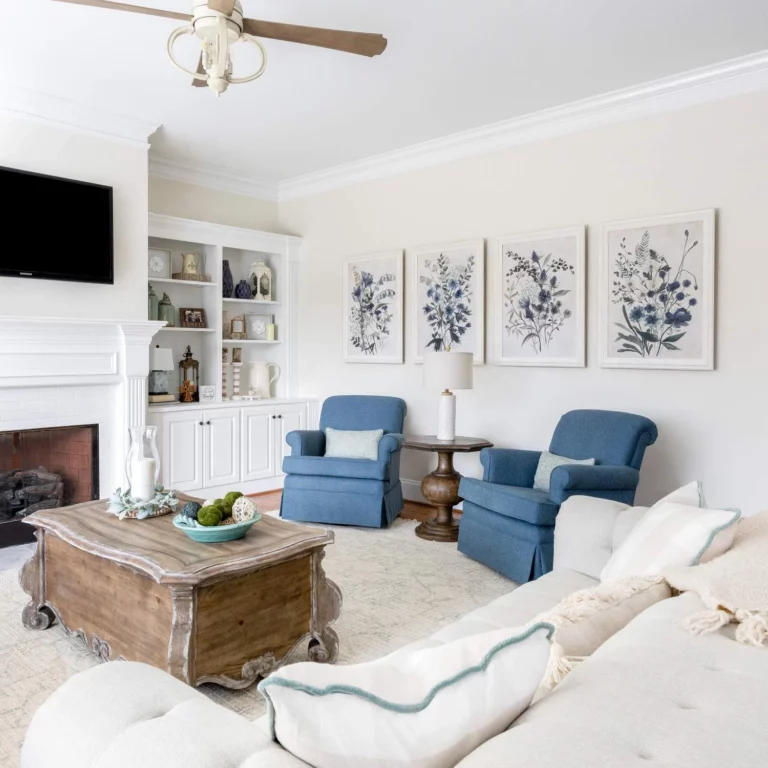 The Primary Bath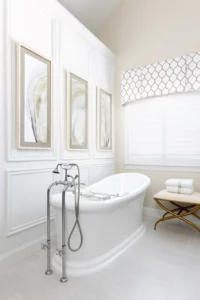 We wanted to create a space where our client could retreat to relax and recharge. With that goal in mind, we redesigned the primary bath using luxe finishes and functional details tailored to support and simplify her daily routines.
We actually proposed two different versions of this design to the client. One featured a much cooler gray and white color palette, but the client opted for the version you see here that also incorporates warmer tones. The wood-framed mirrors and artwork, sconces in a champagne gold finish, and gold touches in the chandelier, stool, and window valance fabric pull everything together and bring some warmth and softness to the primarily white and chrome space.
Other than enlarging the shower, we basically retained the original space's general footprint. We removed the old whirlpool tub, replacing it with a gorgeous freestanding slipper tub, which sets a beautifully luxurious, feminine tone.
Behind the tub, we included a custom millwork treatment on the wall, creating a framing effect that makes the tub feel as if it has its own space rather than as if it's floating out in the middle of nowhere.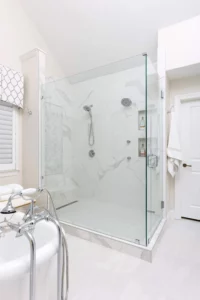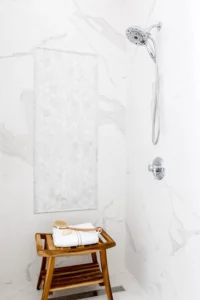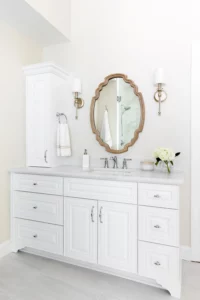 In the shower, we added an additional showerhead, as well as body sprays  with custom temperature settings for an ultimate spa-shower experience.
Inside the vanity, we added a custom pullout where our client can plug in her curling iron and hairdryer, then simply put them back into the metal canisters inside when she's done and shut the pullout, keeping the counter neat and clutter out of sight.
The results of this bathroom's redesign are so good, the space was declared to be better than any you'd find in a luxury hotel!
Our client couldn't agree more. She's beyond delighted with her fresh, new spaces–and the creative inspiration they give her.
From a design standpoint, this is exactly the type of project we love to do. It allowed us to use our creativity to its fullest as we curated a collection of beautiful elements to create the "modern French country" look the homeowner wanted, not to mention the many innovative layout and design solutions she needed. All in all, this project was a designer's dream fulfilled!
Even better is that it completely transformed the way our client experiences living in her home as it fills her with joy and inspiration every day.
You can see the entire project here  in our portfolio.
All design and construction by Chambless Hall Design + Construction
Photography by CatMax Photography, LLC